Boosted Posts
Facebook Boosts – make your post work harder and smarter
Boosted Facebook posts to your area are a simple and effective way to reach a large local audience-
Increase awareness of your missing pet in your local area;
Increase engagement, encourage more people to share and comment;
Boost traffic and encourage others to see your post.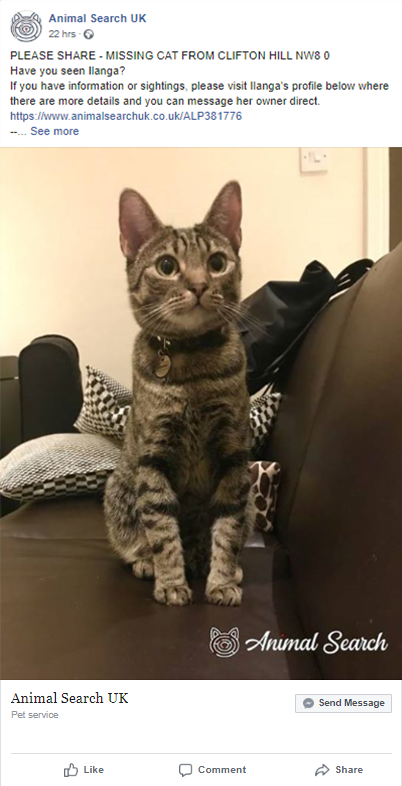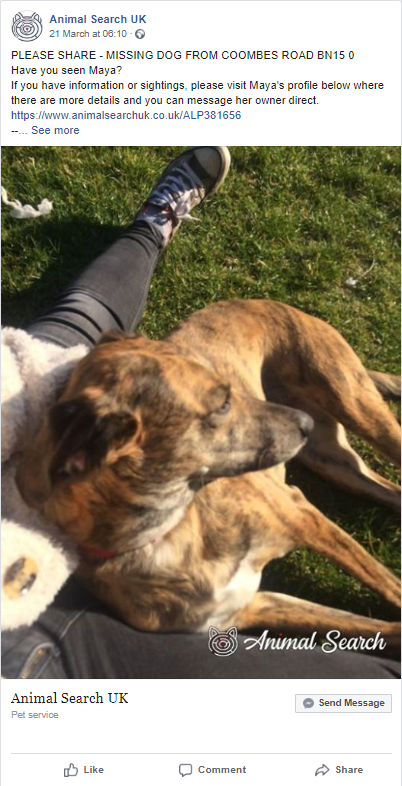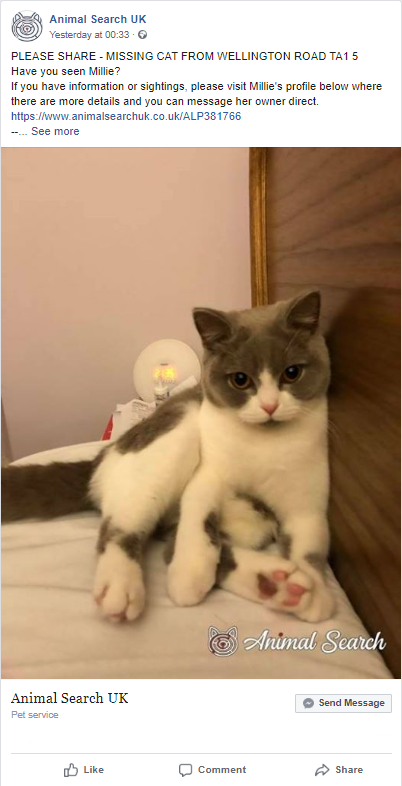 Why boost?
Animal Search UK support a huge network of local lost & found Facebook pages. Our Facebook alerts are seen by over 350,000 people on Facebook every month!
Get maximum local awareness!
More views
More shares
More leads, and
Most importantly: A better chance of a happy reunion
What's best- to boost a post for a day, or spread your budget across a week or more? This depends when your specified audience is active. If you boost a post for one day on Wednesday, but most of your audience is active on Facebook on the weekend, you may not reach the numbers required.
First Impressions matter!
It's worth stressing the importance of a high-quality image or video. When a post is boosted, especially to our users, the image is the first thing they see. Your photo needs to be clear, well-lit and ideally show as much detail as possible, with a good face image and a further full body shot wherever possible.
We can schedule posts when our Facebook page is busiest, 12-1 (lunchtime) and 6-7pm are the busiest periods in terms of engagement, although early morning and weekends also see higher traffic. Also keep in mind the timeliness of the content; if your pet went missing 3 months ago, due to time elapsed it may not get the traffic or attention you need. A week-long boost is fine, as long as it doesn't spread your budget too thinly.
Boost Options
Small Boost £18
Medium Boost £30
Large Boost £50
Super Boost £100
Finally, you should be aware that in most cases the cost of social media boosts can be claimed on Pet Insurance under the advertising and reward section. You will receive a receipt by email after payment has been made which you can forward to your insurance company with your completed claim form.
Share your pets details with
Small Boost
3000 People
Our Small boost package costs £18 and has an estimated reach of 3,000 people.
Large Boost
10 000 People
Our Large boost package costs £50 and has an estimated reach of 10,000 people.
These numbers are calculated using the average reach a post gets.
Boost Your Missing Pet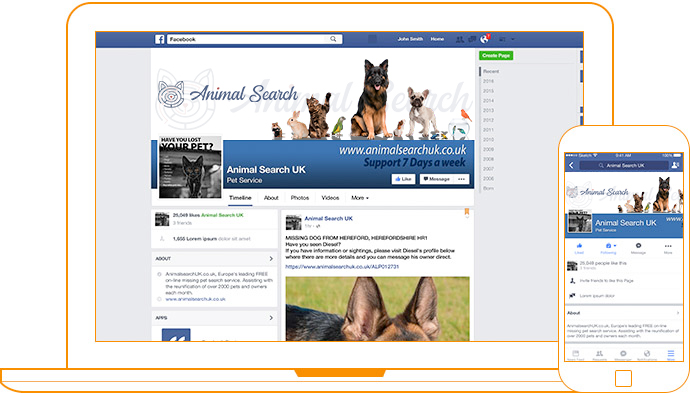 Digital Content (Facebook Boosts) can not be refunded after they have been made live.