Reuniting pets since 1999 Animal Search UK is the leading search service for missing pets in the United Kingdom.
The UKs largest missing pet organisation since 1999
What People Are Saying
Absolutely fantastic service! Would recommend to everyone. Keep up the great work. My Luca is now home safe!
- Katrina P via Facebook Facebook
The Search team came out yesterday in search of my beloved cat Skylar - sadly they didn't find her , however they covered a lot of ground , spoke to a lot of people and raised awareness. When Tony & Scott had concluded there search , they provided a detailed account of where they had been & who they had spoken to, they referred to Skylar by name & spoke about her with genuine care & concern & were both very good listeners they also left me with advice & most importantly hope - the poster & leaflet pack is of a very high standard and has without doubt got people's attention in my local area- Skylar did arrive home 2 days after the search team finished their search - I feel sure this was because of the team raising awareness in my local area
- Paula H via Facebook Facebook
It was such a relief to come across Animal Search UK on the internet when my lovely cat Khan went missing. I felt so powerless and didn't know where to start. With Animal Search UK I was able to immediately post a lost alert on line with all his details. It made me feel I wasn't alone and that the message was getting across to a large network of people in a similar position. Within minutes his photo and information about him went live. I then received a phone call from one of the owner support team offering personal advice and support. She advised me that his pet insurance might cover a promotional campaign to publicise that he was missing. Luckily Khan came home after six days, breezing in as if nothing had happened! Cats! Don't you just love them. I want to thank Animal Search UK for their excellent service and support. I'd not hesitate to recommend their service to people who find themselves in the horrible situation of having lost a much loved pet.
- Maddie via Email Facebook
Wonderful company. My cat is still missing but through the
posters
I did get some news. The poster pack has everything you need to be able to share your information about your pet. Will recommend to anyone.
- Debra S via Facebook Facebook
Registered
with them on the off chance after cat had been missing for 4 day...he was home 24 hours later. Fantastic organisation
- Ray P via Facebook Facebook
Amazing organisation, my cat has been found after 6 weeks missing. The people I have connected with through Animal Search have been unbelievable, so helpful, supportive and incredibly kind. It is fantastic to have an organisation nationwide and just knowing people were caring and looking out for my cat was such a comfort.
- Cheryl R via Facebook Facebook
Incredible support & a fantastic help through such a tough time without all the
posters & leaflets
we wouldn't have had the awareness for our little cat to come home! AMAZING!!!
- Joanna M via Facebook Facebook
My cat Casper went missing a couple of weeks ago. Animal search uk were fab, they gave us tips on things to do to help lure him home, they sent us brilliant waterproof posters and flyers by courier to put up and post through doors etc and thanks to their helpline we have Casper back home with us. Thank you so much, you made a very difficult time a lot easier.
- Jenny-Rhiann S via Facebook Facebook
Great service and support! Extremely happy to say that our cat Molly was found today after almost two weeks missing!
- Sarah S via Facebook Facebook
The best...my 17 yr old cat went missing and had the animal search team out. They are truly compassionate and caring people. They went the extra mile to help me and she has come back safe and sound. Im not sure i could have coped with it all on my own but they support you every step of the way and even put the posters up for me!! Spread the word as not many people know about them, they are a must for a lost pet...xxx
- Lyn D via Facebook Facebook
Really helpful and a great service. My cat was found today after using the
leaflets
. Can't thank you enough. Elise was my main contact and she was brilliant.
- Roxanne Carmen H via Facebook Facebook
What a wonderful service. It was only because of your
leaflets
and fast communication that we found our cat. Thank you to all the staff that gave us so much help and support , it really did mean so much at such a stressful time. And thank you for helping us bring Monty home!
- Claire T via Facebook Facebook
I can't thank Laura, Scott and Animal Search UK enough. After 17 days I had given up hope. One sighting and two phone calls (all within an hour) was all it took to have her back in my arms, within the same hour. She's 15, with a sensitive tummy, but they reassured me that she would make it and to give her time. We did and she's back. Professional, knowledgeable and so so caring. A very big thank you to you all.
- Audrey C via Facebook Facebook
We used Animal Search back in April when our then 9 month old kitten went missing for almost a week. It was one of the most distressing times of my life but with the wonderful help from Animal Search UK we were fortunate enough to receive a call whilst still handing out the
leaflets
! Definitely worth doing if you have a pet insurance that covers the bill!
- Lucy G via Facebook Facebook
Hi, this is Kizzy 's mum! I want to thank Animal Search and the lovely Ursula who took Kizzy in, for helping us reunite with our lovely girl. After 3 and half years we never gave up hope and always kept Kizzy in our thoughts. And now she's home! Wow. We are still in shock really. When there are incredibly kind people, like Ursula and her family, looking out for our lost girl, then there's always hope. For anyone who's pet is missing, don't give up, you never know what can happen. Thanks for all your kind words but mostly thanks to this site and Ursula. X
- Rachel R via Facebook Facebook
If you are reading this you may be seeking professional help to find your missing cat. You are right to do so as Animal Search provide invaluable experience and support and for us made the difference in finding our most precious Columbo who went missing for 18 days. A very hard time is made that bit easier. Their ongoing dedication, advice and positivity gives you hope even after numerous late nights and false sightings. Special thanks to Viki. We will be forever grateful to you all.
- Steve M via Email Facebook
I would definitely recommend Animal Search UK to help reunite people with their fur babies. My cat Lottie was missing for just over two weeks and without Animal Search raising awareness in my neighbourhood I don't think I would of ever found her. She is now home safe and sound although a little on the skinny side.
- Ashleigh W via Facebook Facebook
You need an organisation like this, because the first thing you do when your pet goes missing is panic. With this organisation, you know that absolutely everything is being done for you and it really does help and gives you a big sense of hope.
- Helen C via Facebook Facebook
The
search team's
efforts and advertising campaign brought my little cat home. I highly recommend this service to any missing pet owners. Amazing, caring staff and frankly brilliant! Thanks for everything team!
- Del P via Facebook Facebook
I cannot speak highly enough of Animal Search, especially Tony and Scott, who came down to help us try to find our beloved cat, Zedd. Whilst they didn't find him, they canvassed the local area, put up posters and got a couple of leads for us to chase up. Additionally, they gave us reassurance an invaluable advice. Most importantly, they've given us hope. Thank you so much, your help has made big difference to our search and our lives. We're hopeful that we'll soon be reunited with our Zedd.
- Maxine F via Facebook Facebook
The
poster and leaflet pack
provided was superb. Highly professional and comes with everything you need to fix them. Was provided completely free through my pet insurer. Highly recommended.
- Louise M via Facebook Facebook
I can't begin to tell people how grateful i am to the team at animal search uk for the safe return of my cat Frankie. To be reunited with my beloved pet is such a relief. The expertise and help is second to none, Thank You
- Kelly A via Facebook Facebook
The
poster pack
provided by Animal Search was superb. We were still putting up posters when she was found by someone who had seen the poster. Not sure whether we would have found her otherwise as she seemed have lost her way home. Very helpful staff and I can't recommend it highly enough.
- Laura P via Facebook Facebook
Amazing work can't thank you enough for all the publicity for Marmalade. It really brought our furball home .... thank you xx
- Louise H via Facebook Facebook
These people are amazing they're help is invaluable when you feel so helpless having a missing pet.
- Kelly M via Facebook Facebook
Great caring staff. unfortunately ours was not a happy ending but if not for these posters and the help line we would never have known this and been able to have closure. for this we are grateful.
- Kat H via Facebook Facebook
An amazing organisation that go above and beyond to help you and your pet. We got our beautiful boy back thanks to them and we will always be grateful.
- Brendan B via Facebook Facebook
We found Sid!! I have let Rose and the search team know. The team were amazing yesterday and we will absolutely recommend. She was curled up in a pile of garbage behind a shed where we had all checked many times. She must have returned there in the early hours (we checked behind it at 2am last night and she wasn't there). Thanks to your advice we knew when and how to make regular patrols and most importantly that she might not respond or know us. Sid was very disorientated and didn't know me at first. We were so impressed with animal search's professionalism and the deep humanity and kindness of the team. Thank you
- Stephanie H via Email Facebook
Poster and leaflet campaigns
Most owners tell us that not knowing what has happened to their pet is the worst feeling of all. Even if it is bad news, we know that you would rather know what has happened rather than be left wondering.
We can provide you with leaflets and posters for your missing pet, usually next day. Our posters are extremely strong and 100% waterproof.
Find out more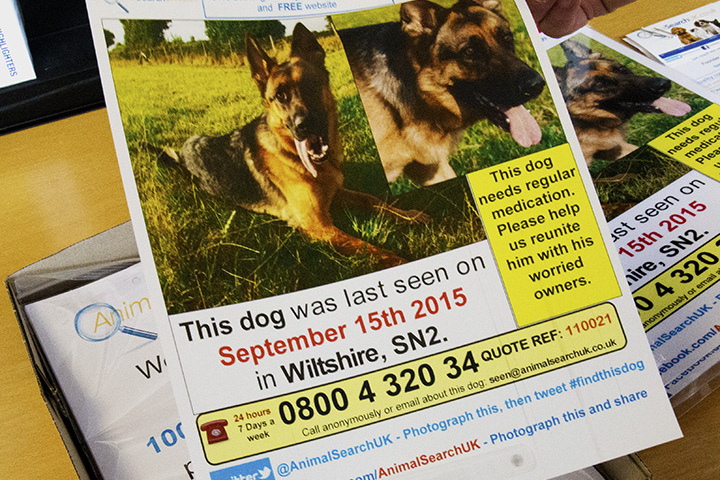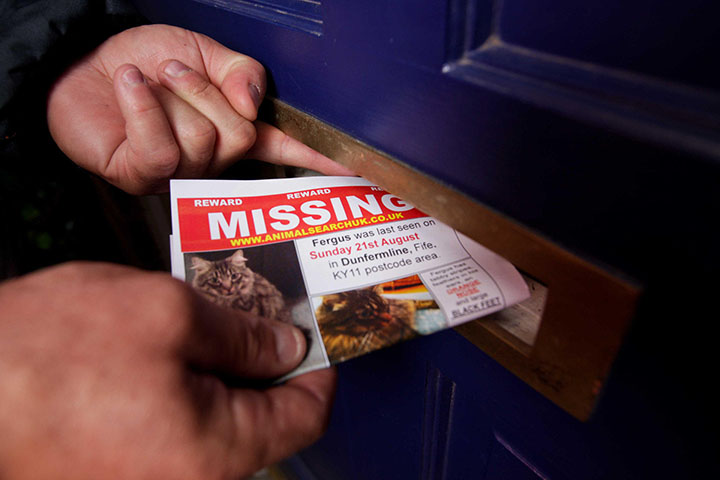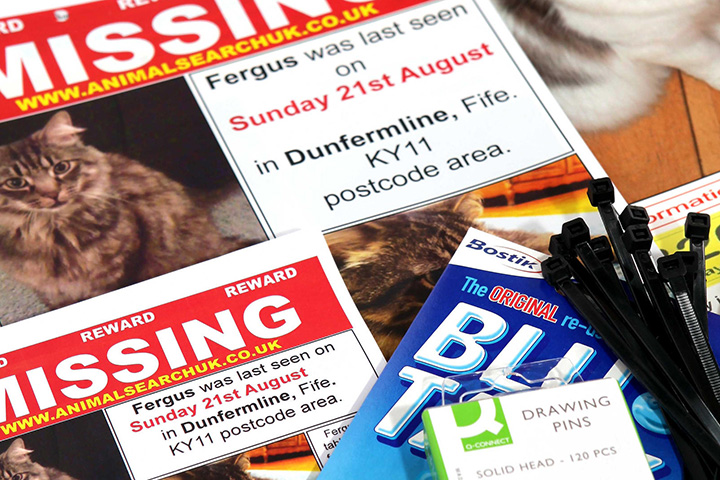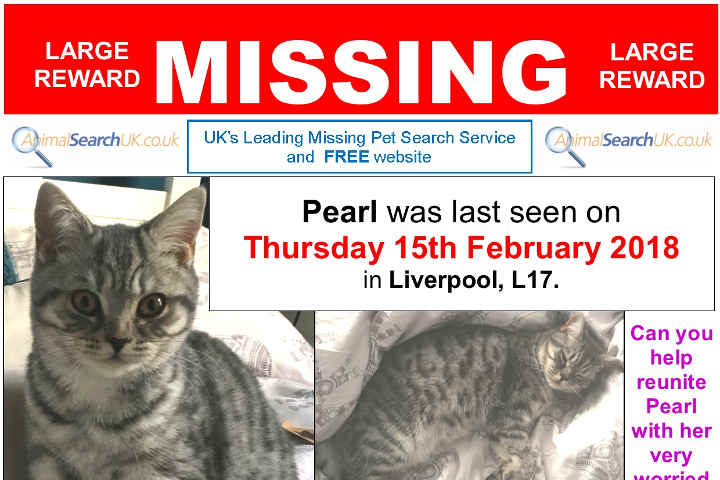 Missing Pet Search Team
We introduced the first ever Missing Pet Search Team into the UK in 1999. We've been reuniting families ever since.
Although we search for ANY type of pet we specialise in missing cat cases. We were the first and still the only organisation in the United Kingdom to have uniformed team members and marked patrol cars members.
Find out more